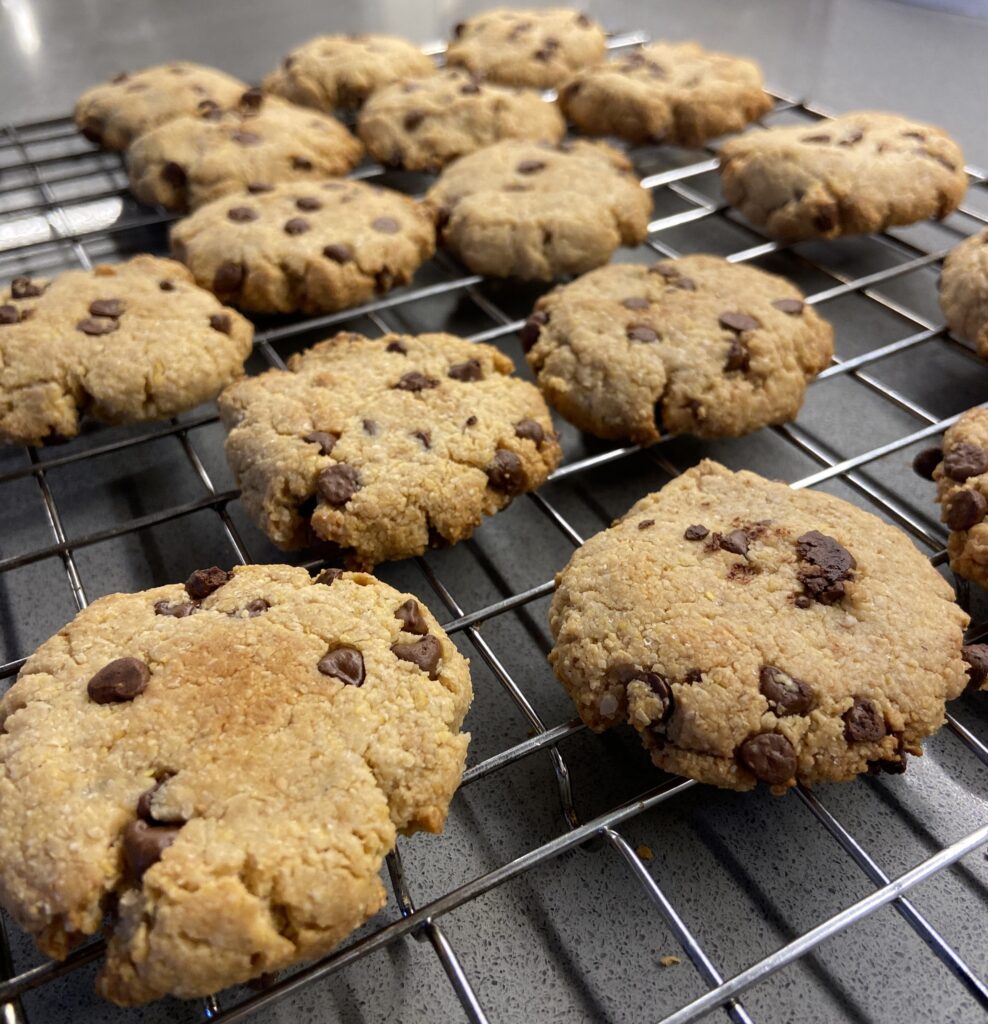 My mum's shortcrust was very rich – 300 grams of flour, 3 egg yolks, 150 grams of butter, 150 grams of sugar and a pinch of salt. I loved it but it was way too sweet. I have been working towards a plant-based shortcrust which can give similar results, but be less sweet and I have developed several recipes which I use for pies or for cookies.
When I calculated the nutritional breakdown for my mum's shortcrust, it comes at about
33% starch, 23% sugar, 21% fats and 6% protein
Typically, I try to shift the carbohydrate portion away from starches and sugars and towards fibers – keeping fats and proteins as close as possible as in the original recipe. So here are two possible approaches which I found pretty good. I also like to use nut flours as they create a nice texture. I normally take the nuts, sometimes roast them slightly sometimes not, and grind them into a flour.
In the recipe for the chocolate chip cookies in the first picture, I used cashews, oat and corn flours (the corn gives a nice yellow colour as I do not like to use turmeric in sweets – it tastes bitter), coconut oil and sugar, worked together all solids and then added some liquids to hold the dough together. After a little rest, I formed 16 cookies which I cooked for 15′ at 180°C.
125g oat flour
75g corn flour
50g toasted cashew flour
50g coconut oil
50g table sugar
50g dark chocolate chips
50g water
25g unsweetenedsoy milk
In the recipe for the ones in the second picture, I used the same procedure but this is the list of ingredients for 18 cookies. The increased fiber load required more liquid:
150g oat flour
50g oat fiber
100g toasted and salted peanut flour
55g table sugar
47g coconut oil
50g dark chocolate chips
150 g unsweetened soy milk
In both cases I have similar macros for fats and proteins, less sweetness and more fibers – I went really heavy on fibers with the second recipe. I loved both, so did Russ. My point is that when we understand a recipe, we can create others that follow the initial guidelines but tailoring according to our personal preferences. These are just to of the many variations I made, often with a 'empty the pantry' goal 🙂